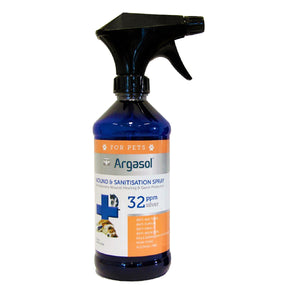 ARGASOL - Wound and Sanitisation Spray 500ml, 32ppm
Regular price $70.00 Sale
500ml
Argasol® Silver Spray is indicated for the management of traumatic wounds, cuts, abrasions, skin irritations, postsurgical incisions and burns. Add 5ml - 15ml (Small - Large size pet) into waterbowl or syringe directly orally to help figh against virus, fungal and bacteria infection. 
Direction of Use:
Move excess hair from wound area (clip if necessary). Spray on the wound to clean, treat infections and promote healing. If dressing is required, spray liberally to wound area and dress the wound. Repeat as many times a day as necessary until wound is healed.
SilverSol® Technology produces patented nanosilver particles suspended in a medium of highly purified water or gel for use as a revolutionary broad-spectrum anti-bacterial, anti-viral and anti-fungal solution.
patented silversol technology®
clinically tested: anti-bacterial, anti-viral and anti-fungal
accelerates skin healing
skin sanitization up to 4 hrs
non-toxic, non-sticky, non-greasy, odorless, colourless
use topically