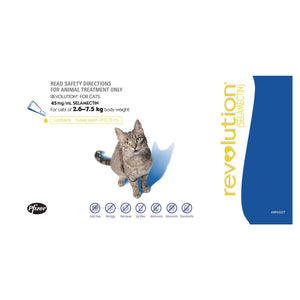 SUPPLEMENTS - REVOLUTION for Adult Cat
Regular price $45.00 Sale
Each box contains 3 doses.
Revolution provides essential vet-grade protection for dogs and cats against fleas, heartworm and other nasties. Revolution is the only all-in-one flea and heartworm treatment for Cats and Dogs that kills fleas eggs which are 50% of the flea problem.
The Revolution Cat Blue Flea and Worming Control applicators are designed for cats from 2.6kg to 7.5kg in weight. Revolution is a quick safe spot-on application to protect your cat from fleas, heart worm and other harmful parasites. A once per month application is quickly absorbed into your pets bloodstream, killing heart worm and intestinal worms. Moving through your pets skin and hair, it starts the process of killing fleas, flea larvae, flea eggs and other external parasites. Revolution will continue to protect your pet for an entire month, even long haired pets. After each month, a new dose needs to be applied.
As a prevention plan, it is recommended you wash your pets bedding in hot water or replace it regularly. Vacuum and thoroughly dust your house regularly, paying particular attention to the areas where your pet sleeps, eats and plays.
Key Features & Benefits:
Easy as 1, 2, 3 to administer.
Waterproof after two hours and wont wash off.
Effective for an entire month.
Kills fleas in your pets living environments.
Directions for Use:
Revolution® for cats is applied to the skin on the back at the base of the cat's neck once a month. Remove the Revolution® tube from its protective package. Holding the Revolution® tube upright, firmly depress the cap to puncture the applicator seal, then remove the cap. Apply the Revolution® contents in one spot and do not massage in. The animal may be bathed or allowed to swim 2 hours after the Revolution® medication is applied. Spot on applicators are portioned based on the pet's weight: puppies and kittens up to 5 lbs; cats between 5.1-15 lbs.
Specifications:
Available Sizes: 3 x 45mg & 6 x 45g
Suits: Cats from 2.6kg to 7.5kg in weight