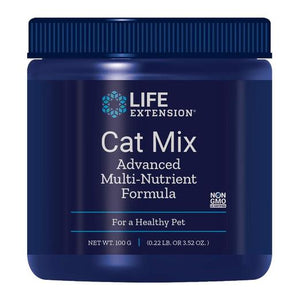 SUPPLEMENTS - Cat Mix
Regular price $20.00 Sale
Cat Mix Benefits 
Helps promote heart, kidney & eye health with taurine 
Contains arginine to support normal heart, kidney & pancreatic function as well as gut health 
Promotes cardiovascular health with B vitamins 
Encourages optimal health with high-quality ingredients
Premium-Quality Ingredients 
Life Extension® believes that all customers deserve high-quality nutritional supplements made with premium-quality ingredients. That includes our furry friends. Our pet supplements contain ingredients held to the same standards as the rest of our products to ensure that your pet gets the same nutritional support we give you.
Animals have different physiological and structural systems and therefore need specific food and nutrients to remain in optimal health. Household pets are often considered family members who require special attention. Filling the need, the pet food industry has grown tremendously over the years. But you have to wonder if you are getting enough nutrients for your cat.
Suggested use
Read the entire label and follow the directions carefully prior to use.
For cats weighing six to nine pounds, mix two (2) scoops a day into your pet's food. Adjust amount according to weight.
Refrigerate after opening. 
Other ingredients
Egg yolk powder, taurine, L-arginine, betaine anhydrous, ascorbic acid, folic acid, maltodextrin, d-alpha tocopheryl succinate, dicalcium phosphate, probiotics (L.acidophilus, L. plantarum, B. bifidum, B. Lactis), rosemary extract, sage extract, thyme extract, niacin, d-calcium pantothenate, pyridoxine HCl, thiamine HCl, green tea extract, riboflavin, Betatene® [beta-carotene with mixed carotenoids (alpha-carotene, lutein, zeaxanthin)], alpha lipoic acid, methylcobalamin.
Contains egg, fish (tilapia).
Warnings
Keep out of reach of children.
Do not exceed recommended dose.
Do not purchase if outer seal is broken or damaged.
This product is not meant to replace veterinary care. Any animal not responding to nutritional therapy should be seen by a licensed, competent veterinarian. Always inform your veterinarian if your animal is taking a supplement.
Density may vary.